AutoRun Pro 8.0.40 -
the easiest way to create autorun menus for your CD, DVD and USB Stick
AutoRun Pro is a powerful visual tool to create professional autorun (autoplay) interfaces and presentations for your CD/DVDs. It is the easiest way to create, edit professional autorun (autoplay) interface and generate autorun files for CD/DVDs in a WYSIWYG environment, just click, point, place and test (run). So all is visual, fast, simple. AutoRun Pro is easy to learn, with demos and wizards you can get started in just minutes!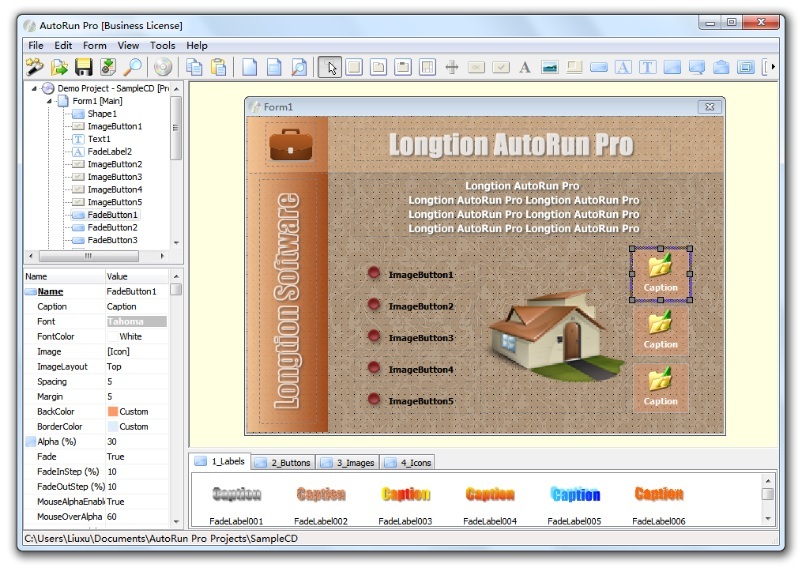 Completely Visual – No programming required
AutoRun Pro features a completely visual drag and drop environment. Simply add content such as photos, videos, music and text to your forms and position them using your mouse. We've even included lots of extra content like backgrounds, panels, buttons, sound effects and more to get you started. From opening documents, to running programs, viewing websites and sending email, it couldn't be easier!
Form Templates and Object Templates
One of the features which makes AutoRun Pro so quick and easy to work with is the included library of ready-to-use form templates and object templates. To apply a template simply select it in the template list, AutoRun Pro will do the rest. All you have to do is substitute your content for the placeholder content and publish. AutoRun Pro templates guarantee professional autorun CDs for anyone, in just a few clicks!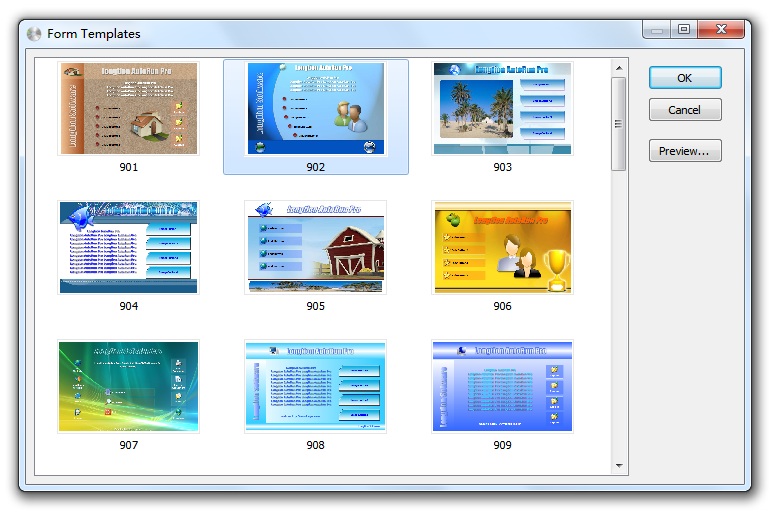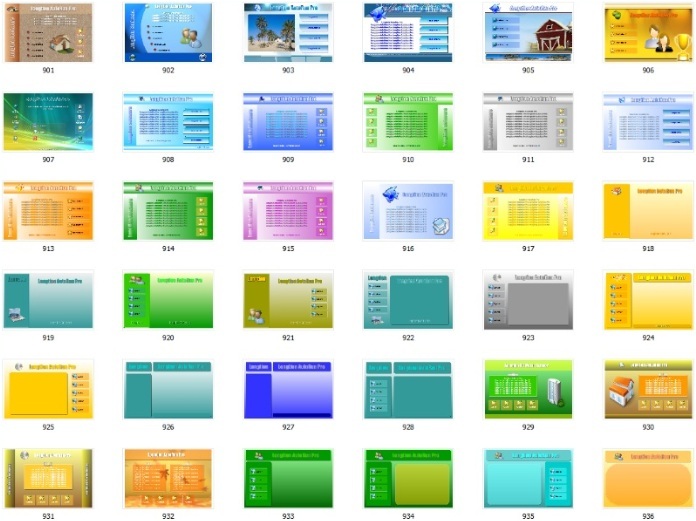 Most of the templates were built with Shape objects and Note objects instead of background images. So you can resize the objects and change the Color, GrandientColor and GrandientStyle properties of the objects to change the form style after you load the templates.
Built-in CD/DVD Burner
Whether you prefer to distribute your projects via CD-ROM, USB stick, the internet, AutoRun Pro makes it a breeze with the handy Publishing Wizard. With just a few clicks you can generate all the files you need to get the job done quickly and correctly. AutoRun Pro can even directly burn your autorun CDs or create ISO CD image files without any need for external CD burning software.
AutoRun Pro Features
Operating System: Windows 2000/XP/2003/2008/Vista/7/8/10/11
Language: English
License: Shareware
Features
Display of every registered document (e.g.: TXT, DOC, HTML) via automatic start of the corresponding application.
Print of every registered document (e.g.: TXT, DOC, HTML) via automatic start of the corresponding application.
Start any program.
Start the default browser with document URL.
Send email.
Integrated Web browser.
Integrated sound player.
Integrated media player.
Integrated RTF (Rich Text) viewer.
Slide Show images (Photo album).
Background color, Gradient color and Transparent Form.
Background sound.
Splash screen.
Full screen background and logo image.
License agreement. You can display a license agreement before any files are launched. The user is required to accept the license in order to continue. If the user does not accept the license, then the AutoRun exits.
Security. You can protect your CD from being started by unlicensed users by requiring users to submit a User Name and Password or an Authentication Code.
Unlimited sub Form.
Form FadeIn, FadeOut.
Images include bitmap, icon, JPEG, EMF, WMF, GIF (Static or Animated), PNG images.
From template.
Object template.
CD Icon and Page icon can be displayed in the title bar.
Test without burning CD.
Burn project to CD-R/CD-RW or create ISO CD image file directly with built-in CD Burner.
Publish project to new folder or USB Flash drive.
Create drop down menu bar (main menu), tool bar and status bar for forms like most standard windows to make your form more professional.
Create popup menu, you can define the pop-up menu that appears when the user clicks on an object or form background with the right mouse button, like most professional applications.
CD expire date, Specifies an expiration date for the CDs.
No registry entry necessary.
Runs from CD-ROM without installation.
No runtime module required.
Objects:
25 Objects: Panel, TabNotebook, TabSheet, GroupBox, ScrollBox, Splitter, Button, ImageButton, Label, Text, Image, Bevel, FadeButton, FadeLabel, FadeText, Shape, Balloon, Note, SlideShow, Memo, RichText, WebBrowser, MediaPlayer, FlashPlayer, PDFReader.
Container Objects:
Panel, TabNotebook, TabSheet, GroupBox, ScrollBox
The container object can serve as a container (parent) for other objects.
The parent of an object is the object that contains the object. For example, if a form includes three ImageButton objects in a GroupBox object, the GroupBox object is the parent of the three ImageButton objects, and the ImageButton objects are the child objects of the GroupBox object.
Events:
Application Events:
Form Events:
Object Events:
OnClick
OnDoubleClick
OnMouseEnter
OnMouseLeave
Actions:
OpenRunFile
VisitWebsite
SendEmail
PrintDocument
BrowseCD
ShowMessage
Exit
PlaySound
StopSound
PlayBackgroundMusic
StopBackgroundMusic
ShowForm
ShowFormModal
GoToForm
ObjectShowText
ObjectShowImage